We specialize in North American wildlife filmed in their natural habitat.
Yellowstone and Grand Teton as neighbors.
Superb settings: The ranch has streams, ponds, aspen groves, forest glades, mountain backdrops, stunning vistas.
Nearby: sand dunes, marshes, rivers, canyons and Targhee national forest.
You request a particular setting, we will travel.
Your custom behaviors trained and guaranteed: time effective, cost effective.
Close to Jackson and Idaho Falls airports.
20 years in the business.
A sixth sense for getting your shots.
Humane training - no animals are taken from the wild. When the animals age, they retire on the ranch.
Known as the "wolf whisperer", Jean Simpson has a solid reputation training animals.
Please click on map for enlarged view & directions.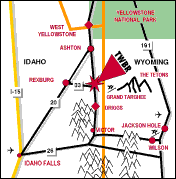 PO Box 469
•
Driggs, Idaho 83422
•
Teton County
•
208.313.0253
•
fax: (208) 456-3041
Send Email